Scratch 2 (P102-SP)
Advance to the next Scratch Level and hone your skills from Scratch 1. Build the coolest game or exciting blockbuster-like animation!
Already enrolled
Join learners from Japan, Australia, Singapore and many other countries!
What you'll learn:

Level Up Your Scratch Skills
Review Scratch 1 concepts and learn more functions in Scratch 2 such as scene transitions and the creation of blocks.

Create Your Very Own Game

With your knowledge of programming and game design theory, develop games such as Nerf War and Diver Dash.

Learn Game Design Fundamentals

Storyboard, characters, play mechanics and feedback systems are a few examples of the fundamentals.
What's in this course?

For Ages 8-12
Level up your Scratch skills and create exciting games

Prerequisite
Must have completed P101 - Scratch 1

100% Independent Learning
Engaging and interactive courses carefully curated to maximise your child's online learning

Online Flexible Schedule
On-Demand Videos and activities for learning, anytime and anywhere

Certificate of Completion
Earn a Certificate upon completion
Requirements:

About This Course
Level up your scratch skills
Scratch 2 is a natural progression for students to hone their skills from Scratch 1. Your child will be able to reiterate concepts with more challenging activities and realise their childhood dreams of building the coolest game or exciting blockbuster-like animation. With our specially refined curriculum for online learning, students will be able to learn in the fun and effective way possible!
Let your imagination soar
Combining game design fundamentals and more in-depth programming knowledge, students will be able to design their own animations and culminate in creating a project of their own during the exciting hackathon!
Best-in-class Curriculum for Coding

We are honoured to be the winner of multiple awards.
Thank you for your support!
Course Outline
Quick Recap of Scratch 1 and Storyboards

Plan storyboard outline of games

Key Game Features
Scenes and transitions
Level system
Broadcast function
Blocks creation (Reusing code)

Games
Fundamentals of game development
Creation of game of your choice

Development of own Project
Pour your knowledge into the cauldron to develop a game, story or animation

Project Showcase
Skills students will gain:

Computational and Logical Thinking

Design Thinking and Advanced Game Creation

... and so much more!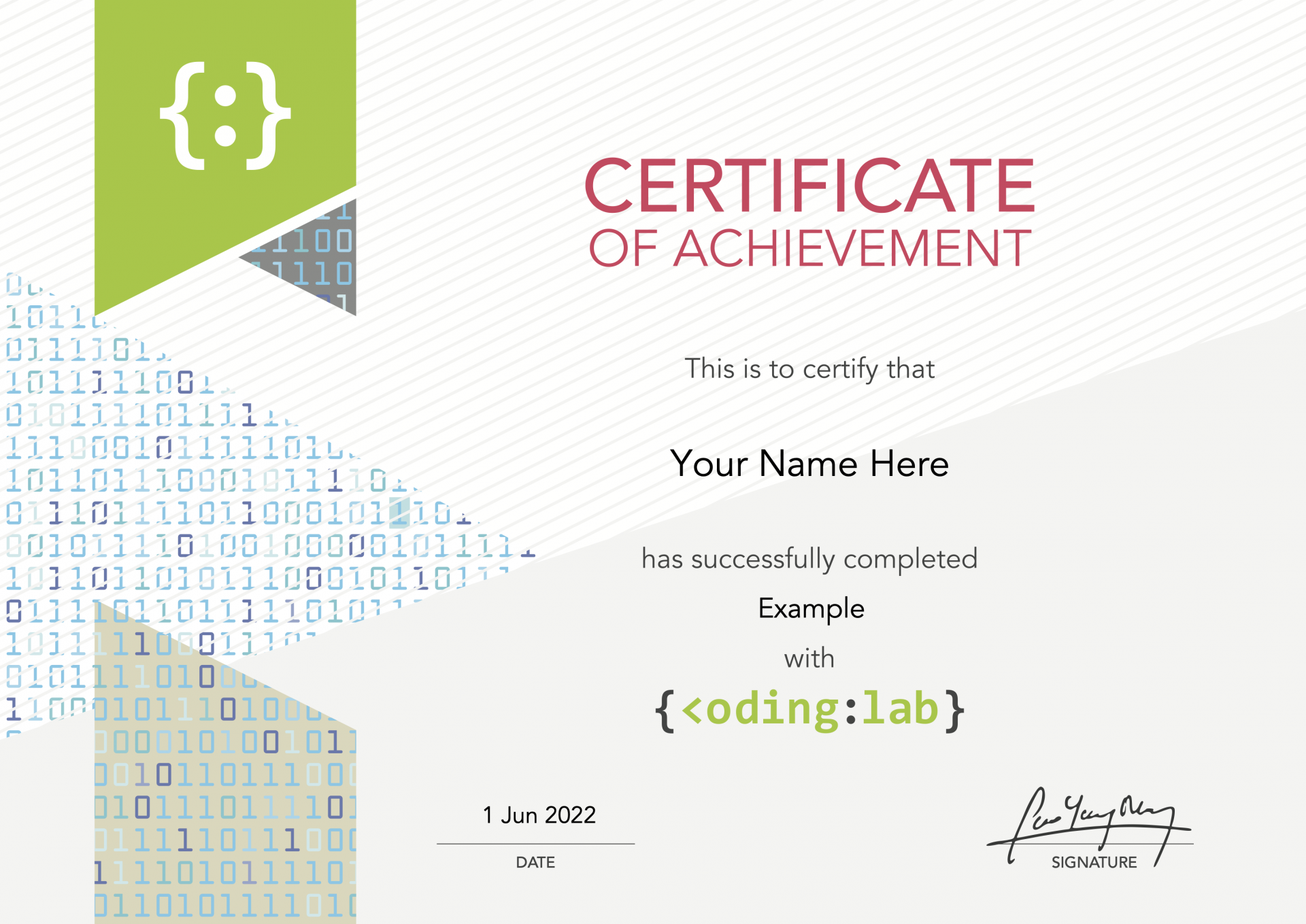 Your child will be rewarded with this certificate upon the completion of the course. Share this certificate on Facebook or Instagram!
Why Our Students Love Us
Javen had lots of fun during every single lesson and it was quite interesting to see his work; I would have never thought that he would be able to come up with something like that, at his age.
– Parent of Javen, 8, Singapore

Zac enjoyed the programme very much. He excitedly showed me projects created during the lessons. He's already requesting to join the next programme.
– Parent of Zachary, 10, Singapore
Tutor was so patient with Nathaniel and kept him engaged and on task as well. An effective scratch class throughout. Very well done.
– Parent of Nathaniel, 9, Singapore
The Coding Lab® Difference
Catch a sneak peek of our happy (and masked) students experiencing the joy of coding at our campuses!
ICS Student Feature: Ahmed Naufal, 8, Merit Award
Watch 8-year-old Ahmed Naufal's Star Wars Invaders shooting game, which uses advanced cloud variables. Ahmed was able to code this impressive game one month after learning Scratch with us! This project won him the Merit Award in the International Coding Showcase 2020.
ICS Student Feature: Alicia Khong, 8, People's Choice Award
Watch 8-year-old Alicia present her fun game on catching colourful balloons, which was created with the use of cloud data! This amazing project won her the People's Choice Award in the International Coding Showcase 2020.